Published on 18 February 2015
Sangeeta Pawar
(Dr. Sangeeta Pawar's speech at the 'The Colonization of Ambedkar: Caste Politics behind Roy-Navayana's Appropriation of Annihilation of Caste ~ A Discussion' held on 21st December, 2014, at University of Mumbai)
Respected chief guest of this session, Suresh Mane sir, Kuffir sir, Anoopji, Michael, other organizers of this deliberation and my dear participant friends,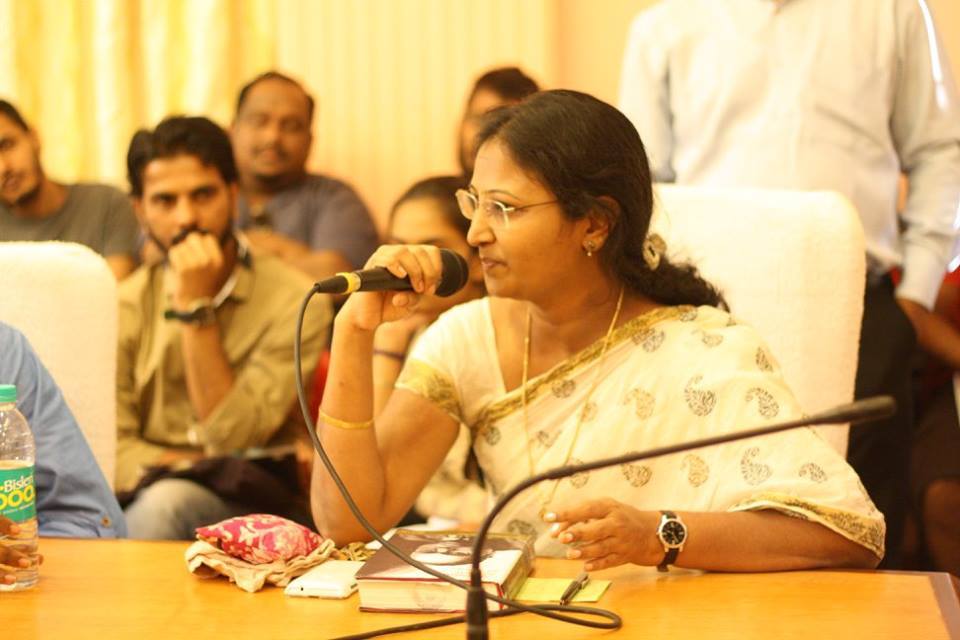 I want to begin with the introductory aspects connected with the book. The minute this book came to my hand, I began with the first page and immediately I was tempted to go to the last part, that is the acknowledgment page.
The fact is, why I had to jump directly to the acknowledgement page is to know actually what references the author has given, who have helped her in her endeavour, whether any dalit writers have helped her and how well read the author is.
Her own submission in the book in the form of the statement is that 'revolutions have begun with reading'. Is she justified in making that statement? I ask that, because if you want to talk about a writer or author, and want to preface his/her text that has already been published – and that too when you dare to touch Babasaheb Ambedkar's 'Annihilation of Caste' – then you cannot justify it unless you've read it well enough.
The very journey of the book from the start begins with all kinds of misleading quotations and understandings and observations. Let me be very precise with you. When I went through it, right from the first part through the 150 pages of introduction, the haunting thought that came to my mind and would occur to every other readers mind irrespective of the role one plays as a civilian, professional, academician or an activist is, 'why does Annihilation of Caste, one of Babasaheb Ambedkar's greatest works, require a reintroduction?'
And when there has to be a reintroduction, why should it be a debatable kind of a reintroduction wherein you're trying to prove that Gandhi was a saint and Dr. Baba Saheb Ambedkar was only a Dalit hero?
The pyramid of caste and caste hierarchy through the caste at bottom as polluters and on top - caste signifying purity - should this narration of the author carry any mileage? And does this not invite hatred on the basis of caste from the upper caste people towards the marginalised sections and downtrodden people of society? The author embraces wrong contemplations about annihilation of caste and is misusing Babasaheb Ambedkar's perception about annihilation of caste. Such contradictions have sensitized the dalit community deeply.
As a reader I fail to understand why she has begun with Malala's fight for peace, justice and the right of the girl child for education, connecting it with a story about Surekha Bhotmange (the Khairlanji murders). She further says that if you've heard of Malala and you've not heard of Surekha Bhotmange, then you have to read Babasaheb Ambekdar!
So from there on, the book goes on talking about caste, what are the types of problems that the castes have in India, how the hierarchy begins and then she tries to corroborate these contentions, and moves into a different kind of journey, where she comes down to the Baniyas, the Vaishyas, and then to the corporate sector, coming out with statistical figures about what are the types of discriminations happening in India, and then talking back-to-back about colonization, imperialism, racism, casteism etc. There so many aspects that are completely baffling! Rarely can one can have a pleasant experience if your plate is heaped up with too many dishes – you don't know where to start eating from. And if you instead begin with having an ounce of everything, then you're not satisfied with any of the dishes. Such is the experience that one has after reading the book.
A reader consumes a matter, viewpoint or an idea about a book to gain satisfaction and then develop a loyalty towards what he or she agrees with, from the author's observations. As an Ambedkarite follower, I would always have that kind of loyalty towards what Babasaheb's original 'Annihilation of Caste', and I don't get the interest of understanding or even thinking of digesting what Arundhati Roy is trying to bring before the audiences.
My humble submission is that if you hide the name of the author, and ask somebody to give an exact review of this introduction, then I guess it will be a critical appraisal..
The upper caste run political and social system tries to project the view that caste as a factor of discrimination, atrocities, injustice, inequality has little or no significance in India, whereas there are several cases of atrocities, honour killings occurring every other day across the whole country.There is a statement in the book which says that democracy itself has not removed caste, which is presumably right from the author's side.
The contradictions in the book if read, analysed and understood thoroughly, leave one baffled, without giving you a complete picture.
I also wish to ask whether the book has any relevance or not. If the relevance of a book is in terms of its appeal and orientation, I find that for me, this book has zero relevance. Why would you buy a book that has a feeling of theatricality, but no intellectual relevance? Why strangulate the essence of the original script of Babasaheb Ambedkar? Why mislead the audience? Why adopt a narrower approach that dilutes the originality of the text?
How do you really go about justifying this book? When you look forward to justify the book, there are certain things which I find objectionable as a reader. The author is feeding the modern society and upper caste readers with the plight of the downtrodden, about the stigma of caste attached to them, how they are educationally not developed, about discriminations. Why is she infusing a feeling of hatred, rejection towards dalit community by being vociferous about their problems and trying to create a charade of social sympathy? Gone are the days when the dalit community had to look in every direction to gain this kind of support and sympathy.This community has come to think in a larger dimension and from the point of view of its own and others' social obligations..
One more objectionable comment she had made was during a talk at Teacher's College, Columbia University, in the US (video is available on YouTube). Addressing the western audience, she says that Babasaheb Ambedkar has helped in the drafting of the constitution, whereas the whole world glorifies Ambedkar as the father of Indian constitution. Despite his health issues he had single-handedly started (the process of constitution making and took it to completion). Her speech opens up by trying to give a very small space to Babasaheb while she's looking forward to talking about Gandhi in a very glorious manner.
Now my dear friends, it's not as if I need to read Ambedkar and talk about AoC, but not read Gandhi because I am an Ambedkarite. We all are well read people, we have read Gandhi several times, we have read Ambedkar several times. We are mature enough to understand what the debate between these two people was, and after that, if we still choose to follow Babasaheb Ambedkar, it is because we understand the need to address the casteist forces that are hindering the development of our economy.
So from that perspective, I personally feel that the book does not actually justify the overall theme of 'Annihilation of Caste'. The title ('The Doctor and the Saint') itself is objectionable. So the objectionable part related to the title, the introduction, should not be accepted as Annihilation of Caste. Next thing I would say, as an academician,the rest of the part that she talks about the debate that took place between Gandhi and Ambedkar feels superficial as she has failed to internalize or interlink the objectionable aspects of Gandhi's perception about caste and Babasaheb Ambedkar's argument about Gandhi's casteism.
I personally feel she could have been more bold and done a little good referencing and allowed equal space to both of them. Like if somebody who is not an Ambedkarite, and who always believes in Gandhi, reads this introduction, he will accept all viewpoints of the author without even getting to know the other side of the story. One should engage from the point of understanding these two personalities together, and if that is done, objectively, Babasaheb Ambedkar's views on every aspect of Indian society will occupy larger space. This book fails to provide that space.
I am sympathizing with Arundhati Roy – she should have taken a little more care, because her name matters. In fact, if we consider this write-up on AoC, we cannot say that she is a great icon, despite her success with the 'God of Small Things'.
When it comes to this particular book, she has somewhere failed to give a proper introduction.
Thank you so much for allowing me to speak.
(A slightly shorter version of this speech was published on Savari. The speech was transcribed by Sruthi Herbert)
~~~
Please read about all other articles (with links) on the subject here.
Dr. Sangeeta Pawar is Associate Professor in the Department of Commerce, University of Mumbai, and is Co-ordinator, Dr. Babasaheb Ambedkar Research & Training Institute (BARTI)